Non Surgical Spinal Decompression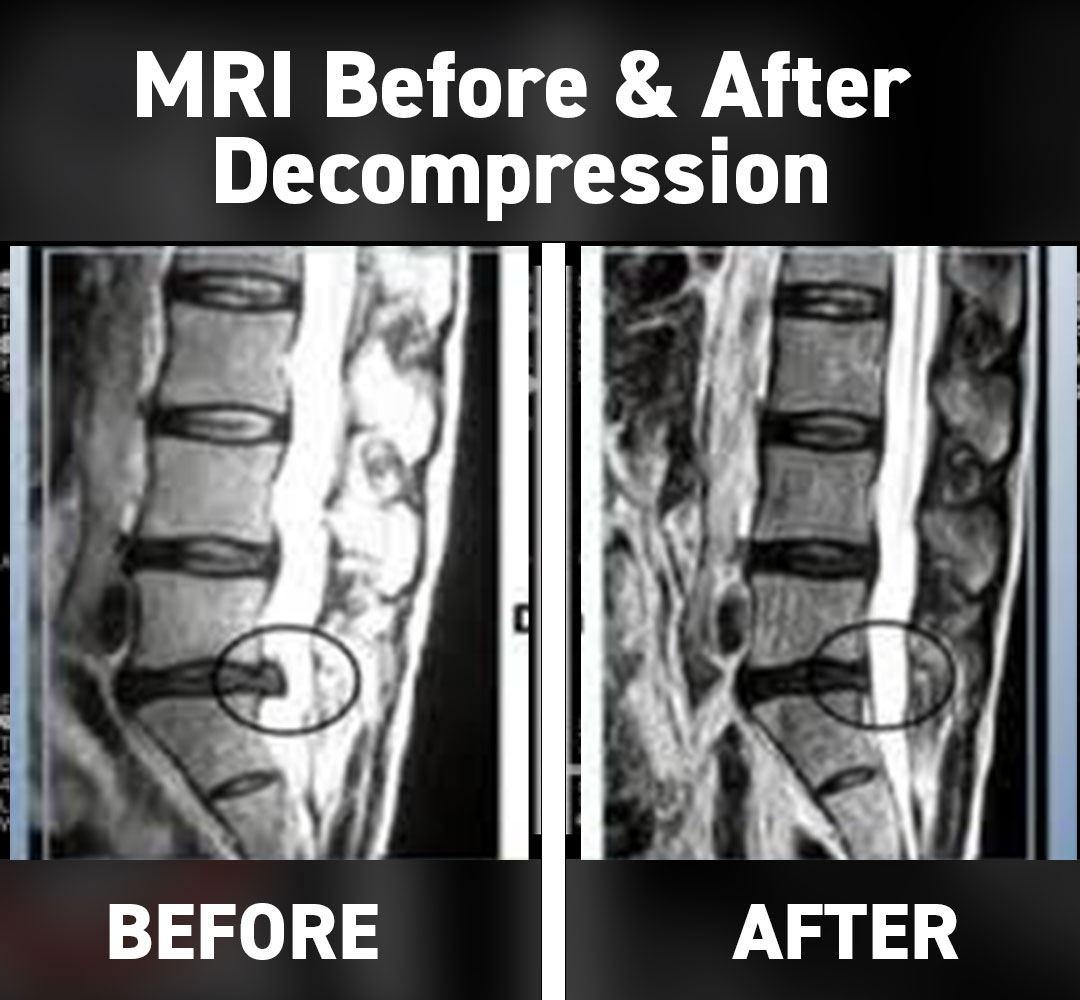 Attention Back & Neck Pain Sufferers! Are you tired of dealing with Low Back or Neck Pain that just won't go away?
Do you suffer from the sharp, shooting pain in the leg or arm?
Are you tired of the constant discomfort and limitations it imposes on your daily life? If so, it's time to discover the power of Non-Surgical Spinal Decompression.
Now you can say Goodbye to Your Sciatica, Neck or Low Back pain with Non-Surgical Spinal Decompression!
Our cutting-edge technology offers a safe, effective and non-invasive solution to relieve the pain caused by sciatica, bulging discs and herniated discs.
By gently separating the vertebrae and reducing pressure on the affected nerves, Non-Surgical Spinal Decompression helps to relieve pain, and improve mobility fast.
In addition to reducing pressure on the spinal discs and nerves, Non-Surgical Spinal Decompression can also improve the overall health of the spine by increasing the flow of oxygen and nutrients to the affected area. This can help to speed up the healing process and prevent future injury.
We understand the fear and uncertainty that comes with choosing a treatment for sciatica pain, bulging discs and herniated discs. That's why we offer a risk-free phone consultation so you can understand the results for yourself and make an informed decision.
With Non-Surgical Spinal Decompression, you'll be able to enjoy the activities you love without the pain holding you back.
Don't let your sciatica pain or bulging discs hold you back any longer. If you are tired of the constant discomfort and limitations it imposes on your daily life? It's time to discover the power of Non-Surgical Spinal Decompression.
With Non-Surgical Spinal Decompression, you'll be able to enjoy the activities you love without the pain holding you back.
You'll be amazed at how much better you can feel.
Book you FREE phone consultation now.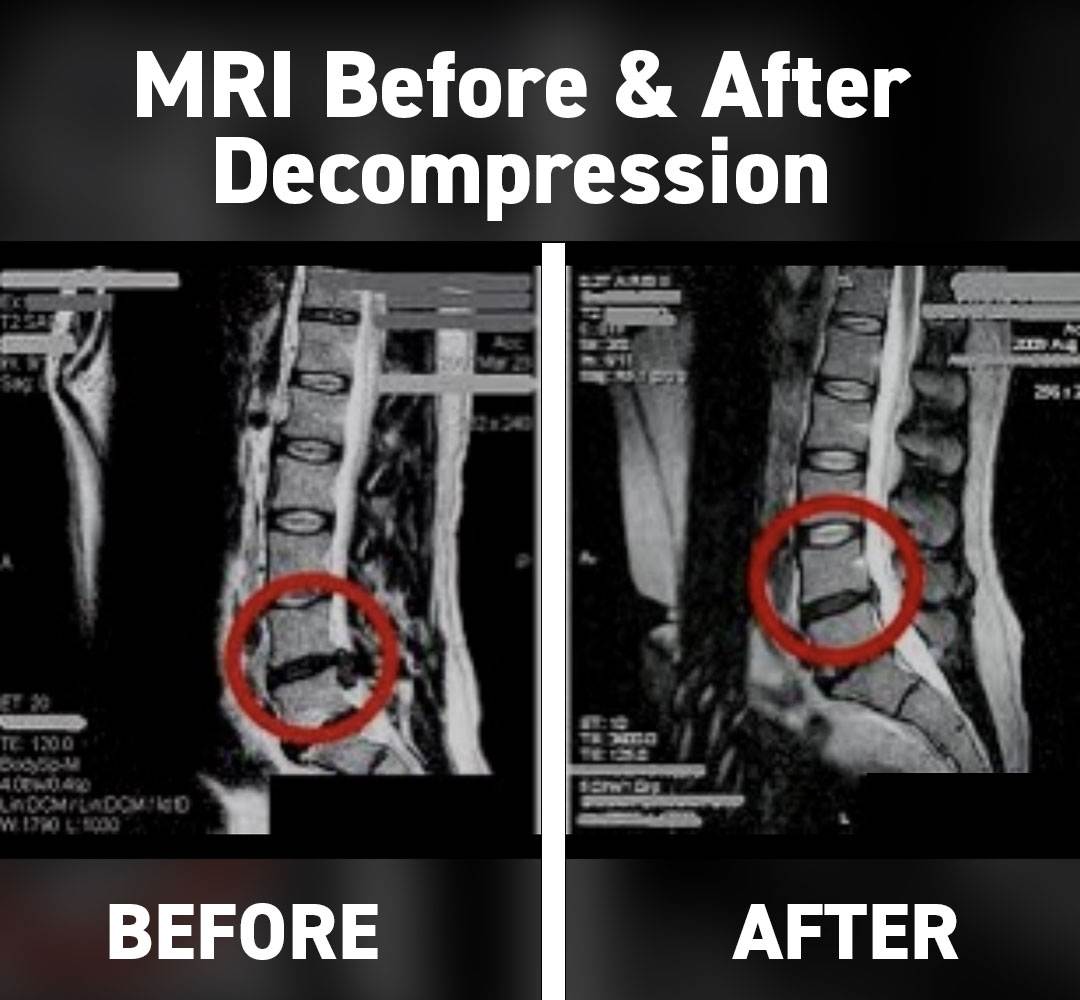 WHY CHOOSE US?
We use the best and latest technology available to get the best outcomes for our clients.
We are the leading practice in Irelands specializing in non surgical spinal decompression for herniated/bulging discs, facet problems, stenosis and chronic back pain.
We have developed a unique multi treatment approach including Laser Therapy and Exercise Rehabilitation
PROGRAMMES OF BACK CARE DESIGNED TO GET YOU OUT OF PAIN AND BACK TO LIVING LIFE TO THE FULL
We specialise in complex and chronic conditions we have designed a selection of Back care programmes intended to get you out of pain and back to living a more fulfilling life whether that is returning to your job, returning to your favourite hobby or sport or playing with your kids or grandchildren.
IDD Therapy Programme
Spinal Stenosis Programme
Herniated, Prolapsed & Bulging Discs Programme
SPEAK TO A PHYSIOTHERAPIST ABOUT YOUR SPECIFIC PROBLEM – CALL NOW
Non-Surgical Spinal Decompression Therapy
Non-Surgical Spinal Decompression Therapy is a revolutionary treatment for Low Back and Neck Pain. DC Physiotherapy Clondalkin offers the latest cutting-edge technology in this field, and we're trusted experts in treating serious lower back pain, neck pain and sciatica.
Our commitment is to offer best in class treatments to aid your recovery. Non-Surgical Spinal Decompression Therapy is FDA cleared Spinal Decompression technology for the treatment of back pain due to:
Herniated Discs
Bulging Discs
Pinched Nerve
Sciatica (leg pain)
Degenerative Disc Disease (DDD)
Spinal Stenosis
Post-Surgical Pain
Typically, someone suffering from a spinal disc issue was given pain medication, instructed to stop all physical activities, referred for physiotherapy, and if they weren't progressing, was sent for spinal surgery. Conservative Physiotherapy proved very helpful in many cases, yet there have been notable cases wherein surgery appeared the only other option… until now.
Thankfully, you needn't live with pain from disc issues anymore. Thanks to the research of a team of top physicians and medical engineers, Non-Surgical Spinal Decompression Therapy was developed to effectively treat lower back pain, neck pain and sciatica resulting from herniated or degenerated discs. Non-Surgical Spinal Decompression Therapy not only significantly reduces back pain in many people, but also enables the majority of clients to return to more activities they enjoy.
Spinal

Decompression
Does spinal decompression therapy really work?

Data from a recent multi-center pilot study utilizing Axiom Worldwide's DRX9000 Reveals a Dramatic Success Rate of 88.9%!

The clinical results of an IRB-approved prospective, multi-center, phase II, non-randomized pilot study utilizing the DRX9000 was presented at the annual New York State Society of Anesthesiologists PGA meeting in New York City December 7-11, 2007. The study, authored by Dr. John Leslie of The Mayo Clinic, was designed to evaluate the effectiveness and safety of the DRX9000 in the treatment of chronic lower back pain. Patients enrolled in the study had suffered an overall average of ten years of chronic back pain. After two weeks of treatments on the DRX9000 there was a 50% reduction in pain scores and upon completion of the entire six week protocol an amazing success rate of 88.9% was documented.
how does spinal decompression work?

Non-Surgical Spinal Decompression uses new cutting edge, state of the art technology to apply a distraction force to relieve disc and nerve compression often associated with low back pain, neck pain and sciatica.

Spinal Decompression, not to be confused with simple traction, gradually lengthens and decompresses the spinal discs, creating negative pressures within the centre of the discs. This reversal of pressure creates an intradiscal vacuum that helps to reposition bulging discs and pull extruded disc material back into the disc, taking pressure off pinched nerves resulting in pain relief. Spinal experts believe that nutrients, oxygen, and fluids are also pulled into the disc to create a revitalized environment conducive to healing.
what are the treatments like

At the start of each treatment, you will be fitted with a harness designed to achieve optimal decompression of the low back or neck. During a treatment of non-surgical spinal decompression you will notice a gentle lengthening of your spine as your discs are gradually decompressed and relieved of pressure. The treatment process is safe and effective. While some patients with extensively injured discs have reported mild discomfort during the first few treatment sessions, their discomfort subsides upon subsequent visits. A patient safety switch provides an extra safety feature, allowing you to stop at any point should you feel discomfort. In very rare occasions, a muscle spasm can occur, this is temporary response to the treatment, typically not lasting more than a few hours. Each treatment session lasts approximately 30 minutes. Individual patient results may vary.
why is spinal decompression different from traction, physical therapy and chiropractic manipulation

While traction, physical therapy, and manipulation may reduce disc pressures to as low as 40 mm Hg, only spinal decompression has been shown to achieve negative pressures within the spine. It has been clinically proven that spinal decompression creates negative pressures as low as -110 mm Hg3 within the injured disc during the treatment session. Normally, pulls exerted on the spine trigger sensory receptors in the back to tighten the muscles surrounding the vertebrae and discs in an effort to protect them from injury. Spinal Decompression bypasses this response by slowly pulling on the spine and relaxing the back over an extended period of time, allowing the discs to be repositioned without tension and without causing spasm and muscle guarding.